SOUNDS OF SEA LIONS, SEALS, WALRUSES & DOLPHINS
Covering the animal war cries of the hunters of the shallow seas, AQUATIC PREDATORS is an unprecedented collection of animal sounds. From the barking of stalking seals, sea lions, and walruses to the whistling and whirring of murderous dolphins, this library packs all the bite you need for the seashore or to design the sounds of any terrifying creatures imaginable.
WHAT'S INSIDE
INCLUDED SOUNDS – KEYWORDS
BARKING, BARKS, BREATHING, BURSTS, CHUGGING, CLICKS, CREAK, CRY, DOLPHIN, EXHALING, GARGLE, GROAN, GROWLING, GRUNTING, GUTTURAL, HOARSE, ROADING, ROARING, SEA LION, SEAL, SNORTING, SQUEAKY, THROATY, WALRUS, WARBLES, WHISTLES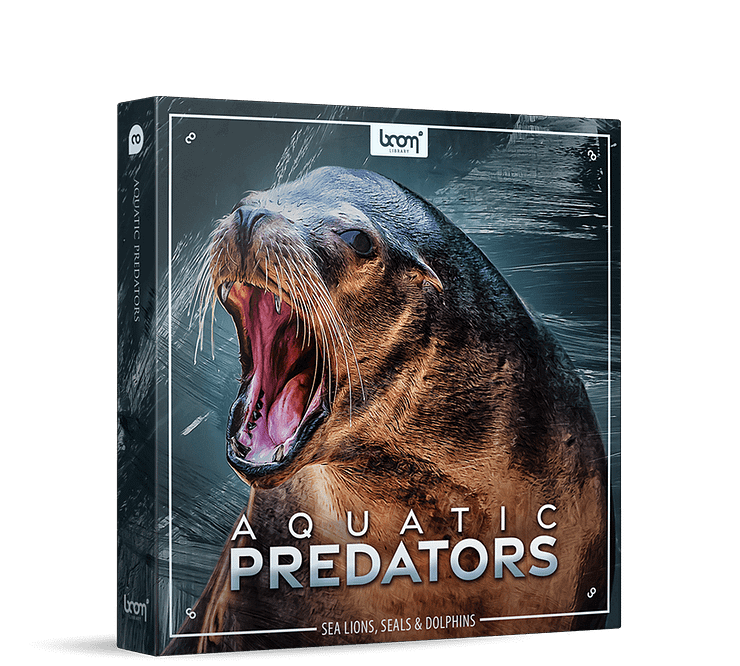 UNPARALLELED AND EXQUISITELY DETAILED SEA SOUNDS
AQUATIC PREDATORS is a pristinely recorded library containing all the deep, throaty groans, raspy barking, and whistling of these famed mammals of the sea.
192 KHZ – PERFECT FOR CREATURE SOUND DESIGN AND MORE
Except for underwater recordings, every sound was recorded in stereo in 192 kHz using the super wide range Sanken CO-100K microphone, capturing all the exquisite detail of these seaside hunters. With such a high sample rate, the recordings can be man